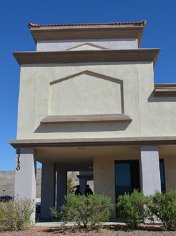 The Goodsprings Justice Court caters to the Goodsprings Township and deals in an array of civil offenses and legal affairs. The Justice of the Peace who heads the Justice Court has a fixed term of six years pending the subsequent election. The Goodsprings Justice Court deals in civil offenses like traffic tickets or speeding tickets, misdemeanor cases, holds preliminary hearings, issues bond forfeitures, evictions and civil matters involving amounts of up to $10,000. The Justice also has the right to grant bail, to issue arrest or search warrants, summonses or protective orders.
The Goodsprings Justice Court is located at 23120 Las Vegas Blvd, Jean, NV 89019. The contact details of Goodsprings Justice Court are – Telephone: 702-874-1405, Fax: 702-874-1612 and Email: This email address is being protected from spambots. You need JavaScript enabled to view it.. The mailing address is Goodsprings Justice Court, PO Box 19155, Jean, NV 89019.
One of the most common offenses that Goodsprings Justice Court deals with are traffic tickets or speeding tickets. Those who have been cited for traffic violations need to pay a fine or appear in the court to challenge the traffic ticket. While it is not recommended, a defendant in a traffic ticket case may plead guilty and pay the fine without having to appear at the court by using a number of the accepted payment methods prior to the date mentioned on the traffic ticket or citation.
The traffic court at Goodsprings Justice Court is held on Wednesdays at 9.30 a.m. Those who wish to challenge the citation or seek further legal proceedings should appear in person at the court with all official documents. The records to be taken include the traffic ticket or speeding ticket, insurance papers, registration details or licenses along with identity proof that confirms residence and contact information.
The Goodsprings Justice Court may also be contacted by mail, fax or email for any correspondence before the date on the citation and all such correspondences should have the details of the case, the citation number along with name, address and phone number of the person issued the traffic ticket. The accepted payment methods include Visa, MasterCard, cashier's check, money order and cash. Cash payments are only accepted at the clerk's desk that is to be paid in person.
A lawyer who practices in the Goodsprings Justice Court may make an appearance on behalf of a defendant for minor traffic violations and, in most cases, can ask for a reduction of the charge and fine.
If you have questions about your Goodsprings Justice Court case, contact the Las Vegas Traffic Ticket Guy today.
To submit your traffic ticket information, Click Here